APRIL IS CHILD ABUSE PREVENTION MONTH
At the Y, we are committed to the safety and wellness of children. That's why we'll be providing tips and advice for parents and caregivers to help prevent and spot child abuse this month. Check back here every April to learn more!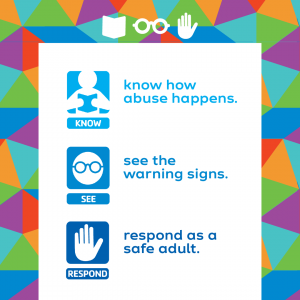 As we wrap up the Five Days of Action—KNOW. SEE. RESPOND campaign, we would like to say thank you for committing alongside us to child
Read More »
PINWHEELS FOR PREVENTION
 Together with the Lily Pad SANE Center and the Cottage Sexual Assault & Children's Advocacy Center, the Georgia Alliance of YMCAs is offering Child Abuse Prevention sessions at no cost. We encourage anyone who works with children to attend as well as everyone in our communities. The purpose of the sessions are to spread awareness about child abuse and how to prevent it in our communities. The sessions center around protecting our children and are open to the public at no cost.
ACTIVITIES
Pinwheels are a reminder that we all play a role in children's lives. Show your support for our nation's children and help get your children involved in the movement by making your own pinwheel display. The following activities are great ways to inspire involvement at your local school, community center, religious institution, or even just within your family. 
For aspiring artists, here is a pinwheel coloring sheet. For the future engineers, here are instructions on how to make your own pinwheel.
PINWHEELS DISPLAY
Monday, April 18 , the Wilson Family YMCA and Aiken County Family YMCA will display pinwheels to represent the number of verified child abuse cases in our communities. The pinwheels represent the cases that had enough evidence to confirm child abuse in 2020. Many cases occur in our community that are never taken to court or lack evidence.
The display at the Aiken County Family YMCA represents 418 substantiated child abuse cases in Aiken and Barnwell counties during 2020. The Wilson Family YMCA display represents 682 cases in Burke, Columbia, McDuffie and Richmond counties in 2020.